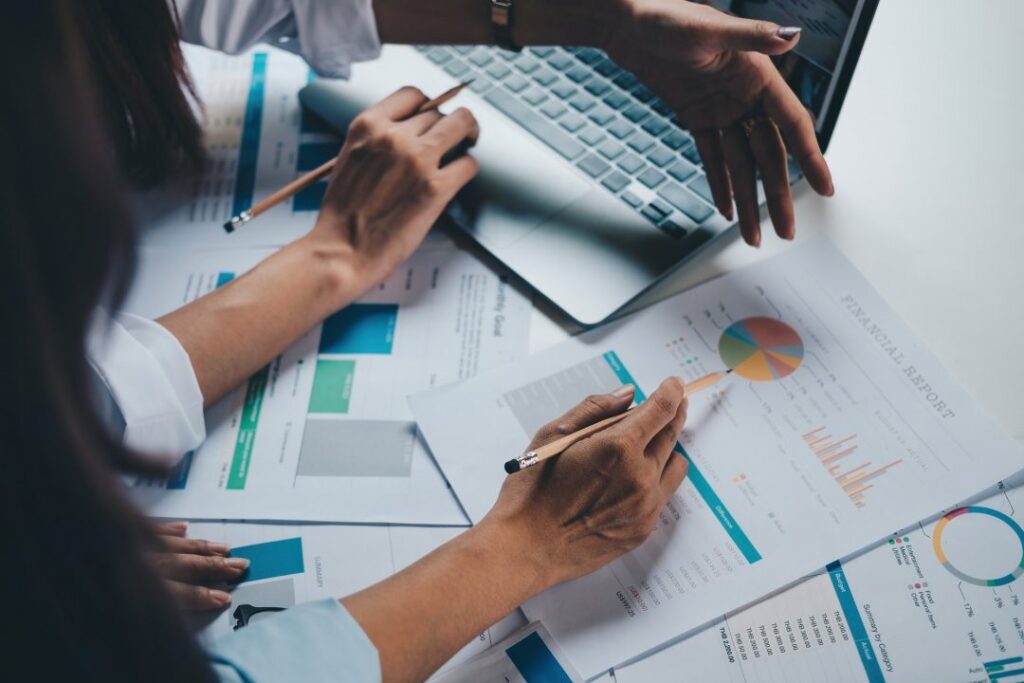 Despite the common misconception that an accountant's only responsibility is to create company accounts and notify clients of their tax situation, at Courtier and Courtier, we go beyond what a business accountant is expected to do. 
In 1991, Bernice Courtier founded Courtier & Courtier in the centre of London's East End under the name Moonlite Accounts. Providing accounting services to some of the largest companies and clients in and around Central London at the time, some of which are still well-known today.
Why Choose Our Small Business Accounting Services?
When running a small business in the heart of London's East End, keeping track of accounts and staying compliant with tax laws can be overwhelming.
An exemplary small business accountant's service can make all the difference for your small business. With Courtier & Courtier, qualified accountants, you can rest easy knowing your accounts are in good hands. Their team of experts has years of experience in the industry and is committed to providing personalized and tailored solutions to meet your specific accountant needs.
One thing that sets Courtier & Courtier apart from other accounting services is their dedication to client satisfaction. They go above and beyond to ensure that their clients are happy with the accounting services they receive. You'll be treated like family when you walk through their doors. They take the time to get to know you and your business so that they can provide the best possible accountant service.
Another benefit of working with Courtier & Courtier accountants is their deep knowledge of tax laws and regulations. In addition, they stay current on all the latest changes, so you don't have to. This means you can focus on running your business while they handle all the complicated financial and tax-related tasks.
Their accountant team is also incredibly responsive and reliable. If you have any questions or concerns, they are always available to help. You can contact them anytime, and they will reply promptly. This level of communication and support is essential for small businesses just starting.
In addition to their excellent accountant service and expertise, Courtier & Courtier also offers competitive pricing. They understand that small businesses have to operate on tight budgets, and they strive to provide affordable solutions that will keep the bank strong. As a result, you can trust that you are getting the best value for your money when you work with Courtier & Courtier.
Overall, if you're looking for a reliable and trustworthy accounting service for your small business in London's East End, look no further than Courtier & Courtier. Their dedication to customer contentment, vast understanding of tax regulations, and inexpensive costing make them the apparent decision for businesses of all sizes. So refrain from letting financial stress keep you from achieving your business goals.
Additional Accountancy Services
There are more aspects to managing your businesses finances than bookkeeping and tax filing. At Courtier & Courtier, we provide various extra accounting services that might assist in growing your company.
Financial planning is one of our most well-liked services. Our team of professionals can assist you in developing a thorough financial strategy that considers your company's objectives, cash flow forecasts, and risk tolerance. As a result, you may choose investments, budgets, and business strategies that can aid your long-term success if you have a sound financial plan.
To assist you in managing the wages and benefits of your employees, we also provide payroll services. Although it can be a lengthy and complicated process, you can be sure that your payroll will be correct and delivered on schedule if you have Courtier & Courtier on your side.
Our business accountant advisory services can be helpful if you want to grow your company. We can offer you advice and support on various subjects, including marketing, product development, and expansion strategies. With our assistance, you may grow your company to new heights and accomplish your objectives more quickly than ever imagined.
Additionally, our team of professionals is there to assist you if you ever need financial analysis or due diligence. We can offer in-depth financial reports and studies to aid decision-making as you consider investments, mergers and acquisitions, and other tactical actions.
To prosper, every small business should have access to top-notch accounting services at Courtier & Courtier. We provide individualized and custom solutions to fit your unique demands because of this. For example, we can assist you whether you require assistance with bookkeeping, tax preparation, financial planning, payroll, or business counselling services.
Do not let financial strain prevent you from attaining your professional objectives. To learn more about our extra accounting services and how we can help you grow your company, contact Courtier & Courtier immediately. You can reach the success of your dreams with our assistance.
London Accounting Firm Business & Tax advisors
Financial management is only one component of a successful business. The business and tax consultants at Courtier & Courtier are helpful. We're here to guide you towards sound judgement so that you can expand your business.
Our small business accountants and tax advisors love helping small enterprises and Sole traders. We understand your difficulties and are committed to customizing solutions for your accountancy demands. Through financial accountants, we will help you with HMRC tax efficiency, corporation tax, business plan, and growth.
We can assist you in handling business tax returns and staying compliant with our extensive knowledge of the tax code and regulations. As a result, we help you minimize taxes and optimize profits so you can focus on running your business.
We are not only tax helpers. Our business advisors can help you create growth strategies, improve financial performance, and streamline and audit accountant operations. We will help you attain your goals by understanding your needs.
Courtier & Courtier believes every small business deserves excellent accountant guidance and support. We offer inexpensive, flexible accountant services tailored to small businesses. Our business and tax advisors can help with taxes, business planning, and more.
Why accept less? Contact Courtier & Courtier to see how our business and tax advisors may help your small business. We will help you succeed and grow your business.
How Focused Accounting Can Enhance Your Business
You understand how difficult it can be to keep track of your bookkeeping and manage your finances as a small business owner. You might not realize it, but a focused accounting system can improve your company in ways you never imagined. We will examine how a targeted accountant strategy can benefit your company and assist you in reaching your objectives.
First and foremost, having a targeted accounting system can offer you insightful information on the financial state of your company. You may immediately spot areas where you could be overspending or where you could be making savings by reviewing your income, expenses, and cash flow regularly. You can use this information to make well-informed decisions regarding your finances, investments, and business plans.
A targeted accounting system can help you comply with tax rules and regulations and provide financial information. Tax law violations can cost you money and land you in legal problems, which are bad for business. Working with a specialized accountant like Courtier & Courtier will give you peace of mind knowing that your company consistently complies with tax rules and regulations.
A focused accounting system might also assist you in streamlining your financial procedures. You can save time and decrease the possibility of errors by automating some processes and using contemporary accounting software. This frees up precious resources that you can use for your company's marketing, product development, and customer service initiatives.
The peace of mind that a focused accounting system offers is one of its most important advantages. As a small business owner, you already have enough without stressing about money. In addition, if you have a targeted accounting system, you can relax knowing that your money is managed by professionals dedicated to your success.
We at Courtier & Courtier know the difficulties small business owners face regarding accounting and finance. To fulfil your unique demands, we provide individualized and specialized accounting solutions. In addition, our team of professionals is available to assist you whether you need assistance with bookkeeping, tax preparation, or accountant financial planning.
Do not let financial strain prevent you from attaining your professional objectives. You may grow your business to new heights and experience the success you have always desired with a targeted accounting system in place. Please meet with Courtier & Courtier immediately to see how we can assist in growing your company.
Our Personal Touch
Courtier & Courtier accountants in London customises all accounting services because every firm is unique. As a result, we get to know our clients, understand their goals and challenges, and tailor our small business accounting services.
Courtier & Courtier offers more than expert advice from accountants. Instead, you are getting a dedicated partner. We will guide, advise, and teach you to succeed.
Our personalized care goes beyond our small business accountants' services. We enjoy building trust, openness, and communication with customers. We want you to feel comfortable asking questions and trusting our advice.
We prefer proactive to reactive. We frequently review your finances to identify any issues before they arise. Our innovative strategy ensures that your money is safe and you always succeed.
Courtier & Courtier loves helping local small businesses. Our dedicated accountancy service and competent advice can help you build your company. So why choose impersonal accountancy services instead of a partner who cares about your success? Contact Courtier & Courtier immediately to experience the difference. Thank you for reading.